Reseller Partner Program
Our Reseller Partner Program provides select companies with a unique opportunity to offer LEM's unique patented mounting solutions to their customers. The program is designed to reward partners who focus their marketing efforts to selling our products and provides a win-win business solution for resellers so that we can achieve mutual success.
We commit to keep the reseller channel absolutely competitive on price. No one from LEM Solutions will ever intercept your deal or try to take it direct. You can call us to assist you in any selling situation with full assurance that our motives are to help you.
Benefits for LEM Partners:
Proven demand- Over 500 Public Safety agencies have deployed LEM vehicle headrest printer mounts
Quick "door opener" to other markets - addresses "limited space" issue common to most Mobile Office vertical sectors like: public safety, field service, direct store delivery, sales force automation, and many others
An attractive pricing discount structure to reward volume sales and website promotion
Increase sales of other products and services:
unique, yet highly practical, "common sense" product has strong universal appeal
easy penetration - both existing customers and new prospects want to see the Vehicle Headrest Printer Mount
"land and expand" - creates more opportunities to sell other products and services
Our Ideal Reseller Partner fits the following criteria:
Significant revenue streams from sales in target vertical markets suitable for LEM mobile printer mounting products
Commitment to expand their traditional customer offerings with LEM's innovative printer mounting solutions in order to accelerate revenue growth
Willingness to promote LEM's products on their company website and advertising materials
Are you a potential LEM Solutions Reseller partner? We invite you to join our program today to begin taking advantage of these unique products coupled with an attractive commission schedule.
Contact Sales at 336-275-2728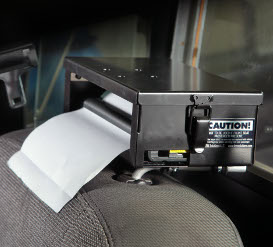 Headrest Printer Mounts
LEM has solved the mobile printer placement problem. With our patented headrest printer mounts, users no longer have to worry about where to place the printer in the vehicle. The platforms are sturdy and secure, providing the driver with easy access to the printer. And they do not interfere with airbags or other equipment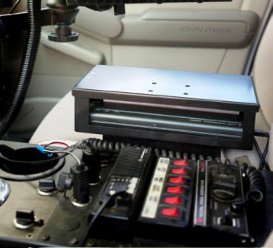 Ease of Conversion
We also offer center console and partition mounting options. Our conversion kits provide you with an "interchangeable" mounting option, to leverage future changes to your fleet and protect your investment.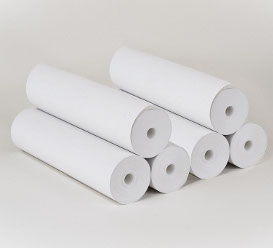 Quality Thermal Paper
We believe that we have the best price/performance thermal paper program in the industry. Please visit our online store at www.lemsolutionsmarket.com to purchase quality Brother PocketJet Thermal Paper Rolls at a great price!